A memorial to Petty Officer 2nd Class Jared Dean Krutke

Nov 13, 1982 → Mar 15, 2007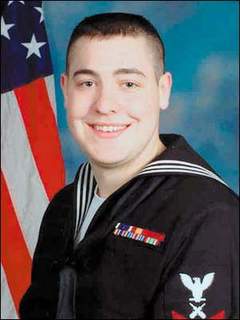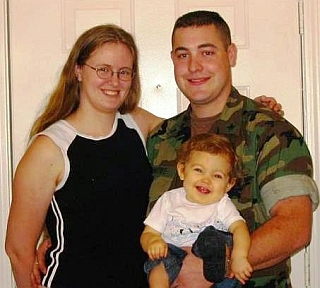 ---
We're just getting started. Please send stories, photos, testamonials, videos or anything you might want to add to
---
I am GM2 Wes Harpster, I had duty with Jared a lot on the USS Ashland. During duty days we always found interesting ways to amuse ourselves and pass the time. The division had started playing with OC (for those of you who don't know it is the military's version of pepper spray), by spraying it into rooms or near places where people were. In the same are as you it didn't have any more effect then coughing, sneezing, and runny nose depending on how much was sprayed. Jared was behind the lockers laying down and I was talking to him, he said something joking around with me, I cannot remember what but, in retaliation I was going to spray the wall by where he was sleeping. This usually would be funny and he would just end up crawling out of the space he was in. Well I didn't know it and couldn't see I sprayed the OC into the opening to the back. Jared had his head up and got hit in the face with it. He immediately obviously starting yelling as OC is very painful we had to be sprayed by it to carry it. I apologized and felt horrible because that was not at all my intentions. Most people after they recovered would have retaliated in some way, or said ok well now its your turn. Not Jared, he came out about 15 min later laughing still holding his eyes shut. I apologized yet again and he said don't worry about it I know you didn't mean to. That to me in all the experiences I have had with him demonstrates what kind of person he was. The world is less of a place without him I know every one that knew him on board the USS Ashland will miss him.
We are holding a ceremony for him on 22MAR07, I hope to get pictures and send them back to his family so they know he was loved elsewhere.
GM2 Wes Harpster 22MAR07
---
I am HT1 (SW/AW) William Schweikert. I do not know where to start to tell you how sorry I am for your loss. I enjoyed every minute he and I spent together. There is one time I remember my son who was 4 at the time ask him to shave his head and dress up as Darth Maul from Star Wars so my son could be Luke and he did and off the walked having light saber fights down the street. I will be taking a flag that was flown from my ship that the Commanding Officer gave to me to put on his casket. As long as they let me it will cover him till we arrive in Wisconsin. Again I am sorry for your loss and I now have a large void and hole in my life as well.
HT1 William Schweikert 16MAR07
---
My name is Barbara Mowrey. I want to first say thanks to Jared's family and friends from Sheboygan, WI for giving me the privilege of serving with him for the last three years. I met Jared in March 24th 2005, while on deployment with the USS Ashland. I was virtually new to the Navy and was really unsure of my first deployment. I was unsure as to what job I wanted in the Navy, so I went down to work with the Gunner's Mates. I thought at the time it would be a really cool job to have in the Navy. While I was learning different things from Jared about being a Gunner's Mate, I gained a valuable friendship. We started hanging out whenever we both had free time. As a Beachmaster, I don't have a specific job while on the ship. Our job is to provide support to Marines landing on the beaches. So I had tons of free time while aboard the ship. I was always hanging out in the ship's armory learning everything Jared was willing to teach me about weapons. Once we pulled into port for a liberty call we started hanging out. Not a day went by that he wasn't sharing stories about his wife Nicole. I heard so much about her I felt as if I already knew her before ever meeting her. He always pushed me to be a better sailor and person. I will never forget the day he told me he was going to be a father.. His face lit up ( as it always did when he was talking about his family) and he had his trademark big grin.
Once we returned from Deployment, I honestly didn't expect to hang out with Jared. I knew he was going to be busy moving his family down to Virginia. And spending time with his new child. I watched Jared play with Elizabeth numerous times once Nicole was able to move down to Virginia to be with him. His face would go from his normal smiling face to absolutely radiant. He was just happy to spend time with Nicole and Elizabeth. I never knew Jared to to half heartedly do something. When he set his mind to do something, he almost always accomplished his goal.
A perfect example was when the ship told him wouldn't be able to put on his Second Class Petty Officer ranking, due to a physical readiness test score. Upon hearing this Jared went about it as he did everything else in life, full of guts and determination. He passed the PRT, with flying colors. Even though he had passed his PRT the ship continued to require him to go to extra workouts and such. I personally watched Jared lead the run numerous mornings. Once He had the group going at a good pace he would break off from the group and encourage the younger sailors that were struggling with the run. I was one of the sailors he encouraged numerous mornings.
Granted I only had a short time with Jared, but I felt as if I had known him my entire life. He always made me laugh and he always brought out the best in me. I feel as if a huge part of my heart is missing, and I only had a little over two and a half years of friendship with him. So my heart goes out to his family and friends in Sheboygan as well as other friends he had a greater time with. I wish now I had been stateside to say goodbye that one last time before he moved from Virginia to Mississippi. Jared you shall be greatly missed my friend. May you rest in peace brother, we shall meet again one day!
Thank you for allowing me to share one of my stories of my time with Jared.
SR BMU-2 Barbara Mowrey
---
I didn't really work with Jared in NMCB 74, but I did work around him. During the first 2 months of our deployment here to Guam…Jared became like my big brother. I was closer to him than I am to almost everyone in my family. And he treated me like I was his little sister that he had to watch over. I have a ton of stories, but there is one thing that he did for me that I will never forget.
I had surgery on my knee on March 1st. I was bedridden (up until March 20th) and I couldn't even go to get my own food. Jared brought me movies to watch during the day while they were all at work. He would also stop by and bring me food...3 times a day. He always made sure to stop by and see how I was doing no matter what else he may of had to do. He would sometimes bring the guys down after work, or just come by himself, to watch movies and hang out in the room so I wasn't alone. We would all have a blast together and things would get out of hand as they all started to rough-house…but then there would come Jared's voice warning everyone else that they had better not hit my knee or they would have to answer to him. He made sure I had everything I could possible need to be comfortable in that current state. He even went as far as to bring down an airsoft gun and a full bottle of little balls for it. He set up paper targets and numerous amounts of empty soda cans for me to practice my aim. And then he helped me clean up every single last bb that was on the floor or where ever they may have ended up. Now...for those of you who don't know…that's almost 3,000 of those little buggers.
I never once saw him frown. He ALWAYS wore a smile on his face. Especially when we would talk about how much we missed home and when he talked about gettng to see his wife and little girl again. He told me tons of stories about Nicole and Elizabeth, and I shared stories with him. I never had a single bad second around Jared.
He was a gift from above. I never had a brother…I have 2 sisters. He watched out for and protected me…just the same as a big brother would do for his little sister. I will never forget the things he had done for me.
As I heard a pastor say…
I don't think that any of us have lost Jared. How could we "lose" someone (or something) when we know exactly where they are? I know Jared is in heaven, and we will all meet him again.
My thoughts and prayers are with his wife, Nicole, and his daughter, Elizabeth. It is a tragedy what happened, but I hope they both know how much he truly loved and cared for them.

Kendra M. Cook, YN3, NMCB 74
---
Hey everyone I'm BM3 Trinidad Magallan. I'm stationed on the USS Ashland. I was deployed with Jared in 2005. That's when I met him for the first time. We had made a port visit to Bahrain and Dubai. Jared had always been a great shipmate and friend. When I heard that he was gone, it was after everyone on the ship that knew him found out. Now I'm a boatswain's mate and usually this doesn't come our way often but one of my shipmates had let me know and I was shocked. I begin looking at this website and just started to cry because Jared had left behind a wonderful family. When we were overseas Jared was always tempted to encourage everyone to do their best. I was one of those people. I talked to him one day about some my problems I had and he was glad to help me out. My condolences go out to his family and friends because we had lost a great person of this world. My heart specially goes out to his wife and daughter because now they will live their lives without Jared around. His spirit is inside of everyone that knew him. May we all meet again some day? Rest in Peace Jared my friend and shipmate. Fair Winds and Following Seas Jared!…We will miss you.
BM3 Trinidad Magallan 26MAR2007
---
Jared made a difference in our church family and in the lives of his coworkers. That great personality of his was like a burst of color coming on the scene! He and my son had a special relationship - both Star Wars fans! Samuel, age 9, is taking the news hard but knows his buddy is waiting for him in Heaven so he'll see him again! We were blessed to have known him for the past months.
Trina Ula
---
Jare Bear: Soldier in the Kings Army
By his mom, Jackie Walston
Note: Jared was called 'Jare Bare' when he was little...
Ever since Jare Bear was a wee cub he wanted to join the King's army. He would watch as the soldiers proudly marched through town, looking here and there, keeping an eye out for the enemy. He would often practice marching around the yard and dream about the day he would walk with them to protect his friends and neighbors from the wolves.
It took over twenty years but finally the day arrived. Jare Bear received a letter in the mail with the King's stamp on it. He opened it, excited that at last he was old enough to join the others. However, his excitement didn't last long. His orders were not to march through town guarding against the enemy but rather he was to report to the armory, the building where they kept all the army equipment.
When he arrived for duty the next morning he was given a list of things to do. He was to guard the equipment to make sure the enemy didn't steal anything, give the soldiers any supplies they needed and to make sure everything was neat and clean in case the King should come for a visit.
Jare Bear was extremely disappointed. As he sat there, wishing that he could be with the other soldiers, he remembered what his mother had told him long ago: "Always do your best, no matter what the test" so even though he wished he could be like other soldiers, protecting the town against the wolves, he did his very best at the job he was given. He would count over and over again the supplies to make sure everything was in its place and nothing was missing. When one of the soldiers would come to him for new boots or a jacket to keep warm, he knew exactly where to find the size the soldier needed and he would make sure the boots were polished and the jacket clean. He made sure the building and everything inside was exactly as it should be, in case the king would come to visit.
When the threat of war had finally come to an end and the wolves had been banished from the kingdom, all the soldiers in the King's army reported for their crowns of accomplishment.
Jare Bear lined up with the others and was astonished when the king placed the golden crown, the highest honor, upon his head. He was confused and thought there had been a mistake so he asked for permission to speak to the King's assistant. However, Jare Bear was told that the King, not his assistant, would like to speak to him directly. Jare came humbly before the throne and knelt before the king. The king motioned for him to rise.
"What seems to be the problem Jare Bear?" the King inquired.
"Sir," he replied respectfully. "I believe I was given the golden crown in error. My job was simply to keep track of the equipment and make sure the army always had what it needed."
"I don't make mistakes Jare Bear," the King said. "Come sit down. I want you to hear the stories that I have been hearing about your service."
The king motioned for Jare Bear to sit beside him. Jare Bear sat down and waited patiently. A few moments later one of his soldier friends walked in.
"King," the other bear said as he stood before them. "Jare Bear has been like no other friend before him. When I injured myself and was unable to even go get my own meals, he delivered them to me, not just one meal but breakfast, lunch and dinner. He brought me movies and books to read. He talked with me and spent time with me when he wasn't working. A better friend I could not ask for."
As he left the room another soldier took his place before the King.
"King," he said. "Jare Bear has been like a big brother to me. When I first came here to fight I had to be away from my family for the first time. Jare Bear was there to comfort me when I needed someone to talk to. A better brother I could not ask for."
As he left the room, yet another soldier came in and stood before them.
"King," he said. "Jare Bear has been a strong and faithful bear to work with. When I needed to get some work done he was there to help when one of the other soldiers was sick and could not. He is always willing to help others. A better bear to work with I could not ask for."
As he left the room another soldier came in.
"King," he said. "Jare Bear is a kind and patient bear to be with. The other day I was carrying a cup of grape juice and not watching where I was going. I bumped into Jare Bear and spilled the juice all over him. Any other bear would have become very angry but when I apologized he accepted my apology and even smiled at me and said he understood that I didn't do it on purpose. A better bear I could not ask to be with."
As he left the room Jare Bear's captain came forward.
"King," he said. "Jare Bear has been one of the best workers I have ever known. He was asked to give the soldiers the supplies they needed. Not only did he make sure they had what they needed but the boots were always polished and the jackets always clean. A better soldier I could not ask for."
Jare Bear sat in amazement as the king turned to him. "So you see Jare Bear," the King spoke kindly, " It is important to do a good job in whatever duty you are given but it is also important to think of others and to be a good friend. This is why you have earned the golden crown."
The King then straightened the crown on top of Jare Bear's head. Jare Bear was no longer sad about the job he had been given. He was proud to be a soldier in the King's army!
---
Hi. My name is Becky King and I knew Jared when he was stationed in Colts Neck, NJ. I became friends with Nicole first, while Jared and my husband were both on deployment overseas. His death is a horrible loss and I wanted to do something to help keep his memory alive. I made a video in tribute to him. It came be viewed on my myspace account.
Becky King
---
I really liked Jared. He always had a smile and liked to play games with us kids. I know he loved God and i'll see him again in Heaven.

SILAS DORNON, age ten, Calvary Chapel, Guam j
---
I am PS3 Rachel McIntyre, NMCB 74, and I met Jared on deployment. I was on the (Fitness Enhancement Program) with him and we became fast friends. Him and BU2 Lewis would always get mad at me if I didn't join them for TacoBell afterwards. I got thrown out of the TacoBell club because of it. =) GM2 was our brother in arms and a true sailor. I would go into the depths of hell with him simply because he said to. A few weeks before he died I made a video with him and our close friend NC1 Melendez. It was titled, "Ghost Hunting in Guam". It started out as a legit documentary, but hanging out with Jared just turned it into an excuse to scare each other. I remember when he picked up a hotdog package in one of the caves and he said that it must of been left over from WWII. I sent the video to his wife and daughter hoping they would find joy in seeing Jared alive for the last time. After watching it about 50 times I still laugh at us and the fun we had. May it also bring a smile to his family's face in their darkest hour of sorrow. Thank you.

May you see God's light on the path ahead
When the road you walk is dark.
May you always hear,
Even in your hour of sorrow,
The gentle singing of the lark.
When times are hard may hardness
Never turn your heart to stone,
May you always remember
when the shadows fall—
You do not walk alone.

PS3 Rachel McIntyre, NMCB 74
---
My name is Matt Matheney and I was stationed with Jared on the USS Detroit for almost 4 years.
First of all, my deepest sympathies go out to his family, friends and all who knew him. It was truly an honor to serve with him and to get to be a part of his everyday life. Living and working on a ship is tough, but he was one of the few people who went out of his way to make sure that everything was good and would put down anything to help you. I truly feel blessed by the impact that he made on those around him. No matter what time it was, he was there for you. His gentle spirit and positive attitude made a huge difference in my life and I will never forget him.
Upon hearing about this, one thing that really helped me through was remembering the way he would approach someone and ask if there was anything that he could do to make their day better. This is gold and a very rare find in most people today. Jared set the example of how people are supposed to act towards others. A light shinning through the darkest places. We spent alot of time together in alot of unpleasant situations and yet he would always find a way to make it seem brighter. Magic? Nope. That was just Jared.
Recently, there was something that happened to me that I almost feel he may have had a part in. This knocked me over, helped me realize alot of things.and helped pave the way for healing. I want to share it with you.
I am now stationed in Key West as a military police officer. Part of my job is conducting traffic stops and writing tickets. One day I pulled over a truck for speeding and not fully stopping at a stop sign. The person driving was a little upset with the stop and tried everything to get out of the tickets. He mentioned that he just transferred here and was not paying attention due to the pain of moving. I didn't care and gave him the tickets anyway. His pay grade was much higher than mine might I ad. Didn't matter, He got the tickets. Now, I'm the kind of person to ignore someone in the future if I meet him after something like this. I don't like confrontations. I would see him around base and and simply turn the other direction or cast a look of distaste. It was only a couple months later that I was sitting in a hallway while waiting to get some service record work done. There was 3 chairs and he walked in and sat right down next to me. I thought that maybe he wouldn't recognize me. We sat in silence for a while until he looked at me and said" Hey, you are the guy that wrote me all those tickets a while back". Busted. " Ya, that's me ", I replied. At this point, I figured that the conversation would be over. Not quite because he kept talking about all kinds of things such as his last duty station. Guam. I mentioned that I lost a really good friend there. He looked at me and said, "Jared". From that point on, all we did was share memories of him and talked about how great of a guy he was. Come to find out, he was Jared's leading Chief petty officer. We sat there and talked for quite a while and now we are buddies.
What I learned from this was that you can't just shut people out over something small. Jared never did and because of his amazing way with people, we found common ground. 2 people who couldn't stand each other, were united by the life of someone who made everyone stop and think about others.
The memory of Jared and what he left behind, lives with all of us who knew him. Thank you Jared, for all the adventures and everything you taught me...by just being you.
Very respectfully, MA2 Matthew Matheney
---
Thank you for all your kind words that have been posted of one of my best friends that I had the great pleasure of serving with aboard the USS Ashland.
Jared Krutke is one of the best people that I have and the privlege of serving with. Its a great thing to hear such kind words being spoken about him. I feel honored to have known him and I know that seeing your prays to his family and friends would make him smile. He was a great man that loved his family very much and cared deeply for his friends. I can think of one person the he didnt know at least on an awuantince level. He was a strng supporter of me being a single mom and being able to make it as one. I wished that he would have been able to meet the little girl that with his support is alive and very well. So hearing such great words makes me cry happy tears knowing that he will not be forgotten! I have enclosed a few photos that where taken over seas in Dubi while visiting a port call. They are forom my deployment pictures that I was fortunate enough to be graced with Jared precense. Thanks again.
Sincerely EN3 Classen, Tanis P NIOC Norfolk USN
---
---